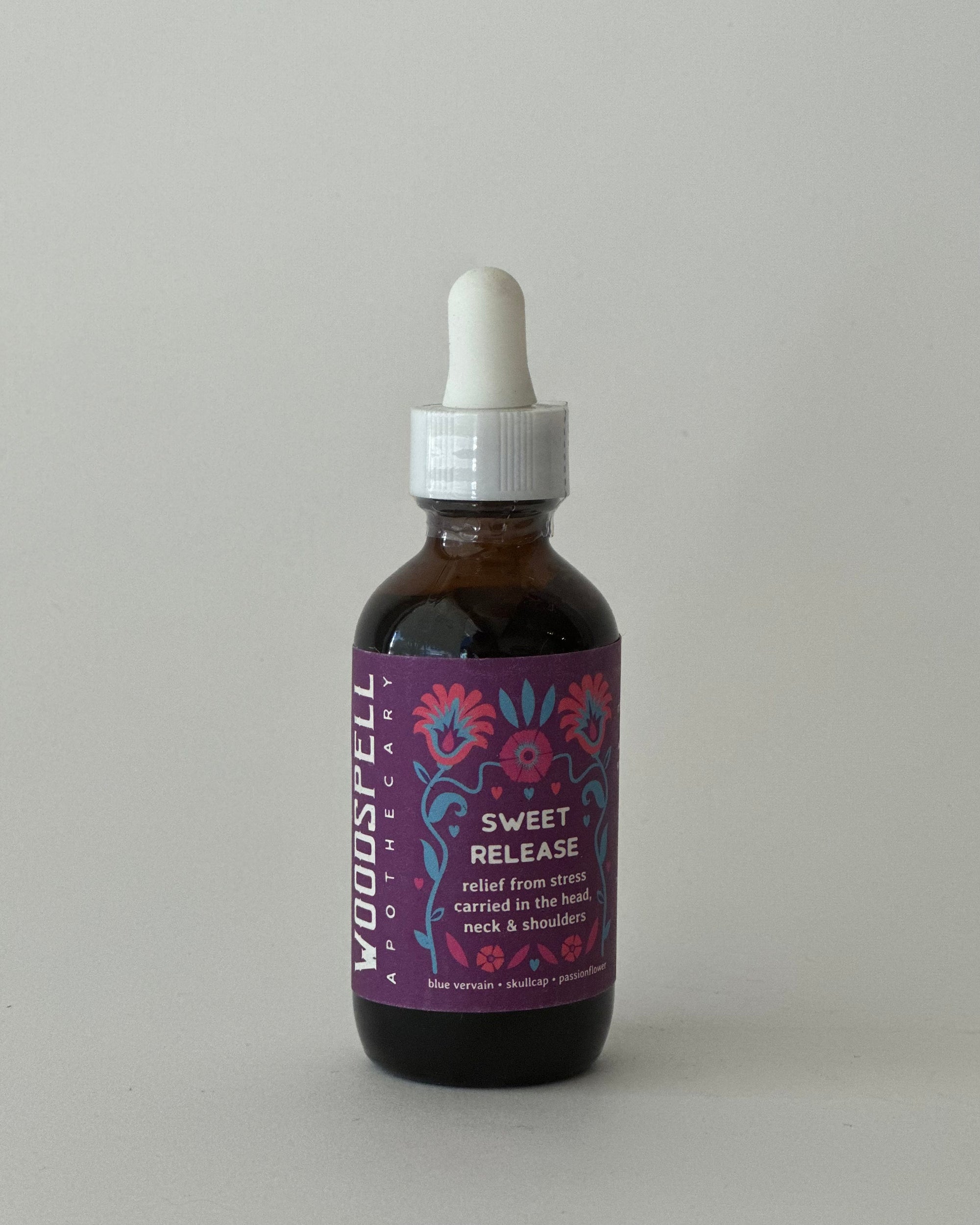 Woodspell – Sweet Release | Stress & Tension Relief Tonic
Woodspell Apothecary
Sometimes we need a little help letting go. This blend is for those who hold stress in their head, neck and shoulders which can result in tension and even pain in that area. People such as this also tend to suffer from circular thinking. They are usually an intense bunch! (This also happens to be Val's go-to nervine tonic for herself!) If you ever wish you could just be a little more easy going every now and then and need some help releasing pent up stress, this blend was made for you.
For intense people we need intense herbs and blue vervain is up for the job. This potent plant tones the nervous system and helps to release tension in the upper body. Held sacred by the Druids and modern herbal practitioners alike, this herb has no shortage of advocates for its use in tense situations.
The supporting roles of this blend are made up of a few more gentle nervine herbs including passionflower and skullcap which help to interrupt repetitive or detrimental thoughts, allowing you to step out of your stress cloud. Passionflower also happens to be an herb with an affinity for the head and neck, ideal for those who hold stress there.
A finishing note of rose helps to soften the blend and delight the palate. Not only does rose add a delicious floral note to help improve the flavor of this blend, but it is a nervine herb as well to help you "soften" as well.
How to Use
Take 20-30 drops up to three times a day straight from the dropper or in a small amount of water. Use on stressful days and preferably on a daily basis to help tone the nervous system over time.

Servings
2oz / 48 Servings

Ingredients
Organic cane alcohol

Spring water

Local wildflower honey

Blue vervain

Skullcap

Passionflower

Rose