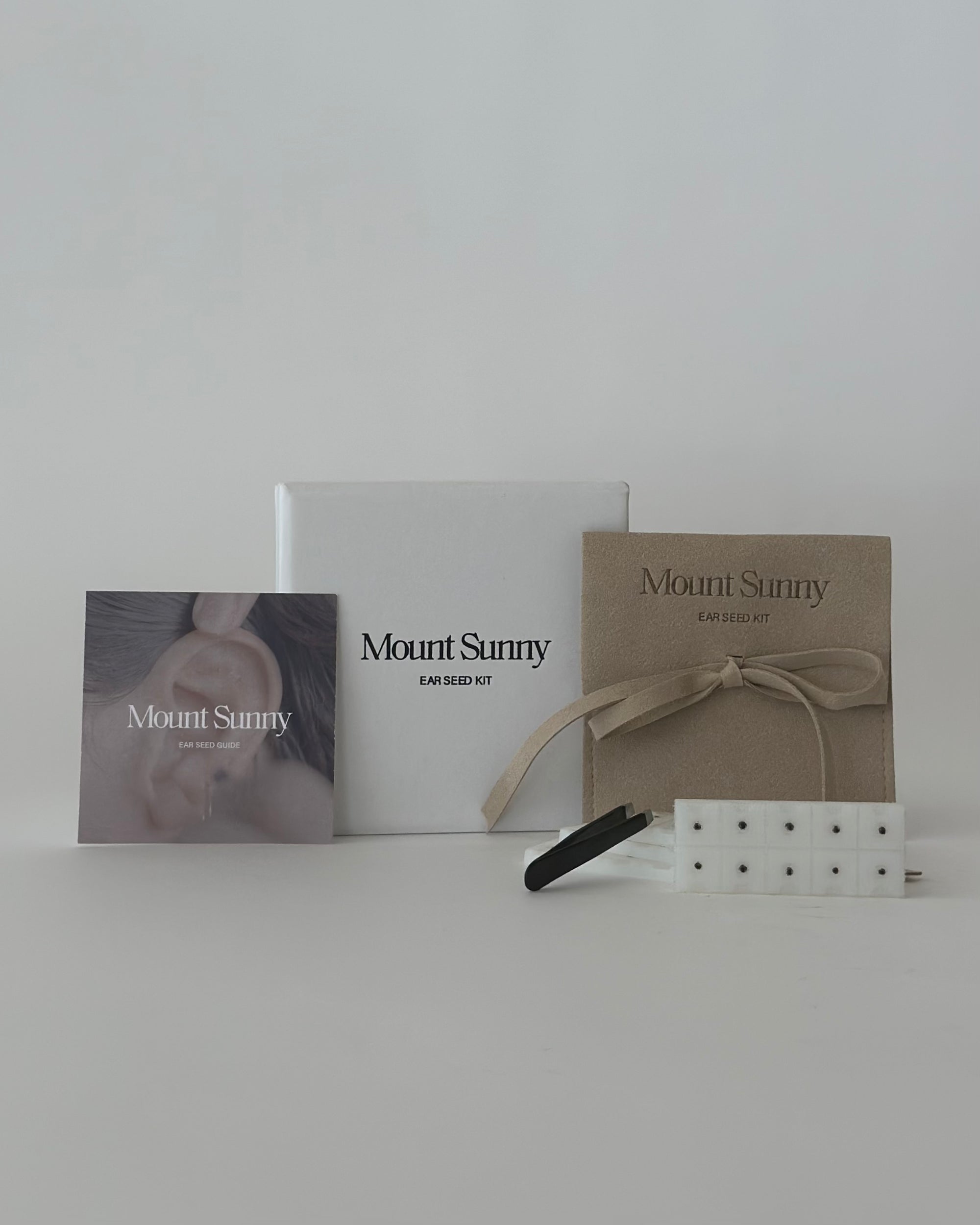 Essential Balance Ear Seed Kit
Your Portable Pathway to Balance and Tranquility
Mount Sunny
Experience the synergy of wellness and simplicity with our Essential Balance Ear Seed Kit. This kit is your personal gateway to holistic health, designed to harmonize your body and mind, wherever you may be.
Each kit is equipped with 40 premium ear seeds, crafted to stimulate specific points on your ear. This practice, rooted in traditional Chinese medicine, aims to promote healing and well-being.
For easy application, we've included a set of tweezers for convenience and ensuring precision.
All these elements are neatly packed in a refined suede leather case. Compact and elegant, this case is your wellness companion on the go. Whether you're traveling, at work, or simply taking a wellness break at home, the Essential Balance Ear Seed Kit is your portable pathway to tranquility.
FEATURES

40 Premium Ear Seeds: Experience the benefits of acupressure with these high-quality ear seeds.
Precision Tweezers: Apply each seed with ease and accuracy.
Suede Leather Case: Carry your wellness ritual with you in this stylish and compact case.
Instruction Guide: Gain access to our digital library of charts and guides.
HIGHLIGHTS

Balance Your Energy

: Ear seeds work on the principles of acupressure to help balance your body's energy flow, promoting a sense of overall well-being and tranquility.

Stress Relief On-the-Go

: These tiny yet powerful tools provide a quick and easy way to alleviate stress and anxiety, no matter where you are.

Natural Pain Management

: Ear seeding can help manage various types of pain, including headaches and migraines, offering a holistic alternative to traditional pain relief methods.

Boost Your Focus: By stimulating specific points on your ear, ear seeds can help improve concentration and mental clarity, helping you stay sharp and focused throughout the day.
Easy to Use

: Our Essential Balance Ear Seed Kit is designed for easy self-application, allowing you to experience the benefits of this ancient wellness practice at your convenience.
INSTRUCTIONAL VIDEO
HOW TO USE

Identify the acupressure point on your ear where the seed will be placed. You can refer to our guide.
Using the tweezers, gently place the seed on the identified point.
Press down softly to ensure the seed is secure.
Leave the seed in place for up to 5 days, gently pressing it whenever you need a moment of calm.
Embrace the rhythm of wellness with the Essential Balance Ear Seed Kit. It's not just a product, it's a ritual that invites balance and tranquility into your life, one seed at a time.