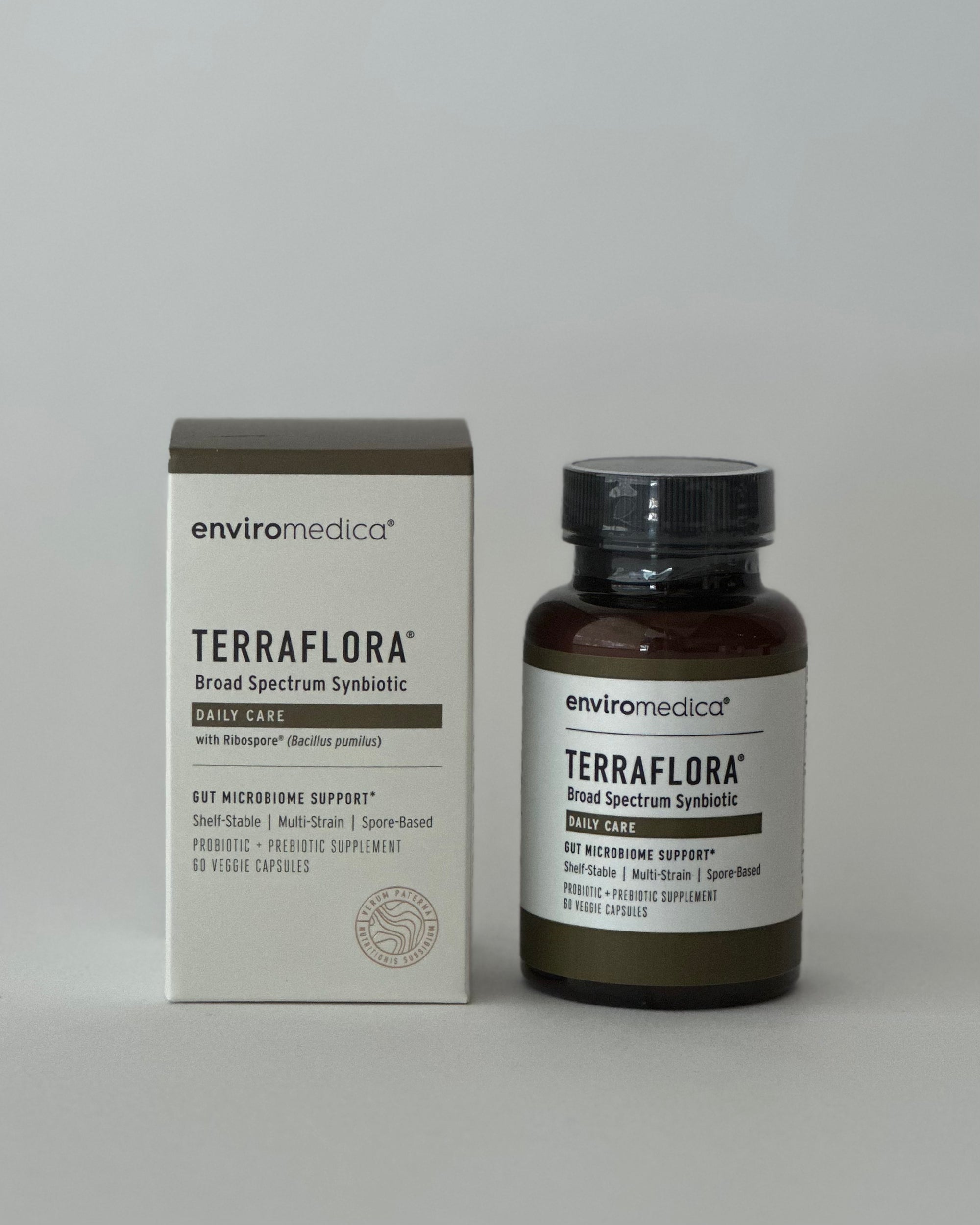 Enviromedica – Terraflora® Daily Care
Enviromedica
Terraflora® Daily Care is a novel broad spectrum synbiotic formulated with a combination of spore form probiotics, and advanced, food-based, ancient prebiotics designed for robust support of gastrointestinal health.
Terraflora Daily Care landed a Top 3 Finalist spot for a 2019 NEXTY Award for Best New Supplement.

Benefits
Top 3 Finalist for a 2019 NEXTY Award for Best New Supplement!




Broad spectrum, soil-based synbiotic (probiotic + prebiotic)

Provides total support of GI and immune health

Supports healthy inflammation response in the GI 




Each strain is third party DNA verified to ensure identity, and uniquely cultivated using a hypoallergenic, vegan, non-GMO growth media

Introduces two novel, GRAS-affirmed Bacillus strains:
Ribospore® (Bacillus pumilus)

, shown in studies to be a substantial producer of riboflavin (vitamin B2), an essential nutrient with novel prebiotic effects, as well as antioxidant carotenoids



Bacillus megaterium

 

EM144™

, a natural producer of highly bioavailable antioxidant carotenoids in the GI tract




Formulated with highly resilient, spore-based strains that possess innate resistance to the stressors of heat, light, stomach acid, and time, ensuring long term viability




Utilizes a sustainably sourced, food-based prebiotic blend of biologically active compounds; free of FOS and inulin
Instructions
Serving Size: 2 Capsules
Servings Per Container: 30
Suggested Use: Start with 1 capsule every other day, and gradually increase to 1-2 capsules 2x daily, or as recommended by your healthcare professional. Best taken with food.

If you are pregnant, nursing, or have a medical condition, consult your healthcare practitioner before use.
Ingredients
Probiotic Bio-Complex: 1 Billion Viable Cells per serving

Ribospore® (Bacillus pumilus)

Bacillus megaterium EM144™

Bacillus subtilis

Bacillus clausii

Bacillus coagulans
Prebiotic Bio-Complex: 850mg per serving
Larch Arabinogalactan [Larix spp.], Reishi [Ganoderma lucidum] Extract (fruiting body), Wild-Harvested Chaga [Inonotus obliquus] Extract (fruiting body), Wild-Harvested Nova Scotian Bladderwrack [Fucus vesiculosus] Extract (thallus), Wild-Harvested Patagonian Wakame [Undaria pinnatifida] Extract (sporophyll), Humic Acids
Other Ingredients: Plant cellulose (capsule)
Contains NO dairy, wheat, gluten, corn, sugar, soy, shellfish, tree nuts, or GMO's. Made without stearates, fillers, binders, flow agents, or additives of any kind.