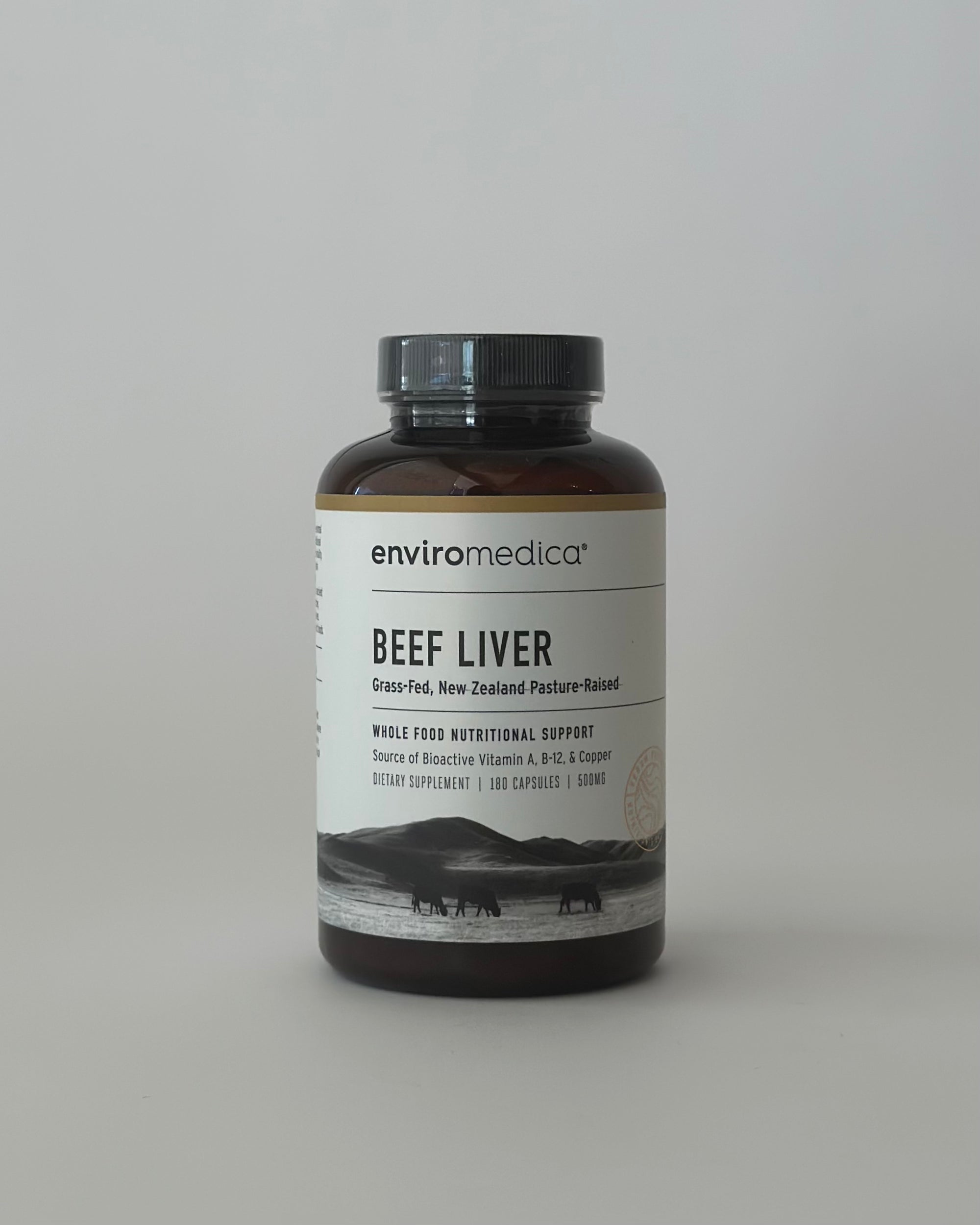 Enviromedica – Grass-fed Beef Liver Supplement
Enviromedica
Sourced exclusively from grass-fed, pasture-raised, New Zealand bovine, Enviromedica's Beef Liver is an abundant source of nutrients, including protein, vitamin B6 and B12, folate, choline, copper, hyaluronic acid, and a concentrated source of preformed vitamin A (retinol).
Beef liver is a nutrient dense source of the vitamins and minerals humans are most likely to be deficient in. It's as if beef liver was designed by nature for our benefit. The nutrients that comprise beef liver are the synergistic building blocks to support metabolic, immune, liver, skin, eye, reproductive, and mental health.
Benefits
Often called the superfood of the animal kingdom

Excellent source of protein

Great source of preformed vitamin A

Abundant with bioavailable B12 and B-complex vitamins, choline, biotin, iron, copper, zinc, and folate

Contains fat soluble vitamins A, D, E, K
Instructions
Serving Size: 6 Capsules
Servings Per Container: 30
Suggested Use: Take 6 capsules per day with or without food, or as recommended by your healthcare professional.

If you are pregnant, nursing, or have a medical condition, consult your healthcare practitioner before use.
Ingredients
New Zealand Bovine Liver (Grass-fed, pasture-raised, freeze-dried) 3,000 mg per serving

Other Ingredients: Gelatin (capsule)

Contains NO dairy, wheat, yeast, gluten, corn, sugar, soy, shellfish, tree nuts, or preservatives. Made without stearates, fillers, binders, flow agents, or additives of any kind.